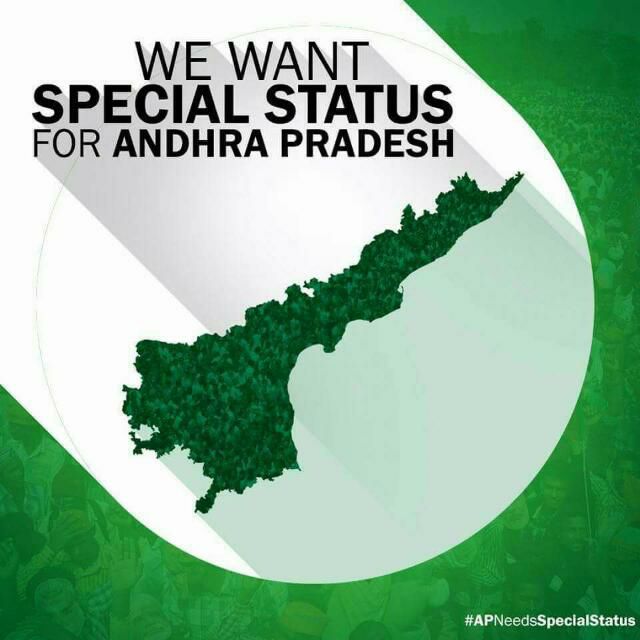 When Bifurcation Act of AP was placed in Loksabha on the last day of the last session before election by UPA government it was passed successfully. Neither Telugu Desam party, Nor YSR party nor BJP or any one leader sought benefits or packages for AP reorganization state. Not a single statement was given by all the above parties either in the Parliament or before or after passing of the bill in Loksabha. The reason was known to all , if they ask any benefit for Andhra area they loose votes and seats in Telangana area.
Only in Rajya Sabha when the bill of AP state Bifurcation act was presented neither TDP nor others raised objections . The Issue of Special Status was raised by BJP MP Mr. Venkaiah Naidu garu was fully supported by his party colleague Mr Arun Jaitley . Then PM told that as requested by Mr Venkaiah Naidu garu 9 Central Education institutions like IIT, IIM , Institution of Science etc will be added in HRD department, Revenue Deficit also will be paid for first year . Then PM promised that The Special Status will be given to AP by his party after winning the election next two months.
At that time ,only Northeast states from Assam to Tripura, Jammu & Kashmir and Uttarakhand and Himachal Pradesh were enjoying Special Status category, which enables these states to have 60% cost of all central Schemes and Projects from the Central Government. So state enjoying Special Status to bear only 40% of the cost. Apart from this Revenue Deficit also will be fully provided by Central Government.
In Election campaign
We have seen the issue of Special Status in Election Campaign in 2014 and again in 2019 . Both Telegu Desam party and YSR party canvassed this. TDP made a big fight with BJP in 2013-14, after sitting pretty for four years and sharing power at Central Government. As TDP feared that Special Status canvassed by Mr Jagan Reddy garu may bring power in AP. TDP could not turn the tables either at Central level and State level as estimated. Just like in 2004 election TDP got very very less seats than estimated .
YSR party repeatedly told in election campaign of 2019 "whichever party gives Special Status to AP will be supported blindly to form Government at centre".YSR party got 151 MLA seats out of 175 and 23 MP seats out of 25 in 2019 election. BJP got 303 MPs out of 524 seats and formed Government comforatably . It was blessing in disguise for Mr Jagan Reddy.Even on Indepence day ( last week) Special Status issue was raised the Honourable Chief Minister Mr Jagan Reddy.
What is criteria for Special Status
Practically all the states enjoying Special Status are Critically backward as they are borders to our country. Generally in borders of a country no body establishes big factories nor business complex. So incomes of these states will be very low. All states have Revenue Deficit also that means taxes collection by state Government is not sufficient for establishment cost of offices and employees.
What is the position of AP.
Income tax, Customs duty, Excise Duty collection from companies , trusts, persons and associations , during 2018-19 year ended 31-3-2019 were declared by Direct Tax Commissioner were as under Total direct taxes in entire India for FY 2028-19 were Rs.11,37,685 crore .
Uttar Pradesh Rs.27,688 crore ( 2.6%)
Bihar Rs.6,239 crore ( 0.65% )
Orissa Rs.13,420 crore ( 1.24% )
Telangana Rs.10,860 crore ( 0.95%)
Rajasthan Rs.21,059 crore ( 1.8% ) .
Haryana Rs.29,881 crore ( 2.54% )
Now AP Rs.46,222 crore( 4.06%).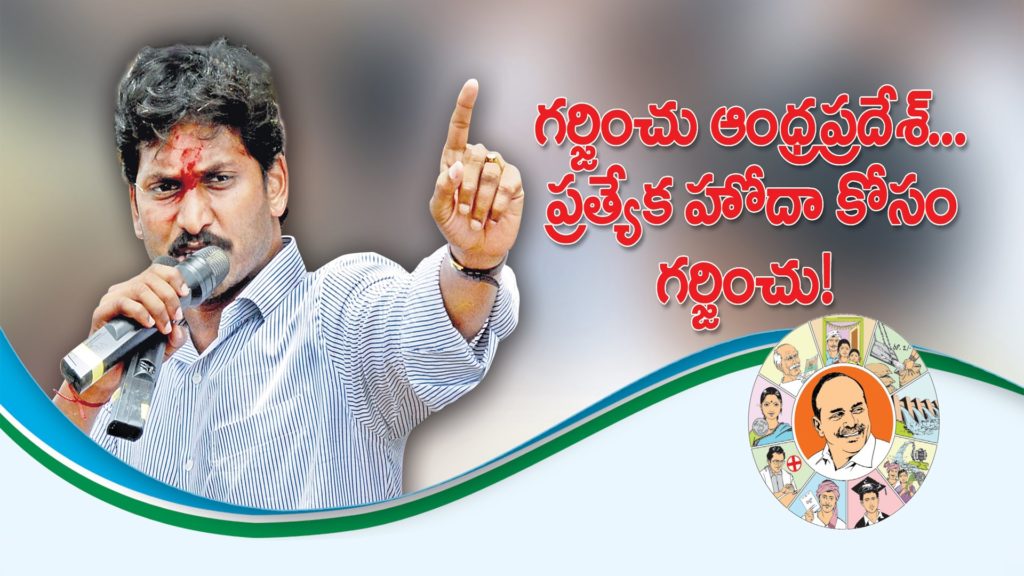 Of course Maharashtra Rs.425,390 crore (37.3%), Delhi Rs.166,405 crore ( 14%) and Karnataka Rs.119,796 crore ( 10.5%) are leading the table.We can see from the above that there are six states with less tax paid status than AP , including Telangana.
As per 2011 censes there are 33 cities in the 13 districts of AP , with a population of above one lakh people. But in the Telangana state only 11 cities are there including Hyderabad and warangal.
Gross Domestic product ( GDP) was declared for all states for FY 2019-20 by Central Government.
The details are as follows
Figures in Rs Lakh crore
1.Maharastra 29.79
2.Tamilnadu 18.54
3.Gujarat. 17.01
4.Karnataka 15.88
UP. 15.79
West Bengal. 13 14
AP. 10.80
8 Telangana. 9.69
MP. 9.62
15 Bihar. 5.72
16 Odisha. 5.40
The above figures indicate that in GDP A P is at seventh place followed by Telangana at eighth place . Bihar at 15 th place and Odisha at 16th place in GDP that is why many Bihar People and Odisha people come to work any where in South India for less salary also.
By seeing these figures Some people and analists are forecasting that in Bihar State elections in November will be won by RJD + Congress combo easily as lakhs of people walked hundreds of Kilometres to reach Bihar two months back.
The above figures indicate that Special Status is not possible for AP even in Dream also. It is economically far ahead of many big states. Let us wish every state a good growth with out a vast economical disparity.
SRIKANTA VENKATA CHALAPATHI
ECONOMIC ANALYST