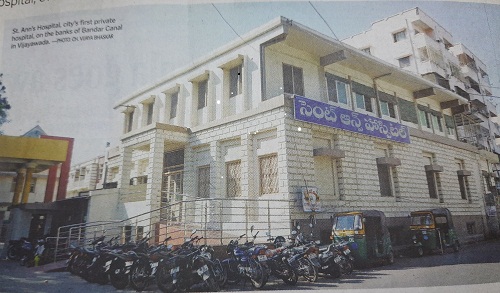 Many denizens are of the view (even now) that there is some connection between Vijayawada's decades-old American Hospital and the United States of America.But the fact is, this healing place has nothing to do with the 'land of liberty'.It acquired the name because it was built by a white and in those days white meant America. Bump into anyone and ask for the address of the hospital they will guide to perfection as it is in the healing business for more than seven decades especially for the poor, needy and the under-privileged. Even in the era of hi-tech and super speciality healthcare, this hospital stands tall for care and compassion. Built by St. Ann's Society from Switzerland the hospital on MG Road was christened as St. Ann's Hospital but the interesting fact is like the rest of the world, the staff would prefer to call it as "American Hospital".The hospital owes its origin to Sr. Elizabeth Affenranger, a christen missionary nun from Switzerland, who came to India in 1927 and worked for more than a decade at the government headquarters at Machilipatnam serving the poor
.In 1940 at the request of the Bezwada municipality, Elizabeth with a group of nuns, Sr. Natalia, Sr. Teresa, Sr. Anna, Sr. Emma Gabel, built the hospital brick by brick with meagre funds at Bezwada.Those days' patients were dependent more on the government hospital alone. This is the first private hospital of Vijayawada, says Dr Nambiar, a senior-most physician, who served the hospital in the 70s and 80s.The hospital, which was started with 40 beds, gained huge popularity among the denizens, in a short span of time. For the neighbouring villages, it was a God sent boon.Though the hospital has a wide range of special treatment facilities, it acquired an enviable reputation and popularity among the public for maternity and pediatric cases, In fact, many Vijayawadiates opened their eyes at the hospital.There used to be just two hospitals – America Hospital and Government Hospital. The gradual mushrooming of the corporate hospital took some sheen out of this missionary-run hospital but still, there are many who prefer to see their child open his or her eyes here."It is like passing on a legacy – mother to daughter; daughter to her daughter. A good number of flourishing present doctors owe their success to the disciplined stint they had at St. Ann's Hospital which exemplifies punctuality, orderliness, empathy and warmth,"  says G Phani, a city chronicler.
The hospital, with around 50 permanent and consulting has increased bed capacity 350 in early 2000.It conducts several clinics regularly and has a well-equipped laboratory.It is still one of the best hospitals with an equipped intensive care unit for premature babies.The hospital built a new outpatient department in 2000 to meet the increasing demand. Presently a portion of the hospital was renovated to meet the future demands.

TIDBITS:Dr Burghall took up multiple tasks and performed several surgeries along with Dr Satyam.It was Dr S Ramakrishna, who installed the first ICU in the hospital.Doctors like Mrs Satyam, Sneha Latha and Lalitha Kumari excelled as gynaecologists.

NOT JUST A NURSE
This German Lady – Sr. Emma Gabel- epitomizes the soul of American Hospital. She along with Sr. Elizabeth laid the foundation stone of this hospital in 1940 and lived close to a hundred years.Until she breathed her last, she cared for and loved her fellow brethren. Living with others was her motto.For those who knew her, it is hard to imagine St. Ann's Hospital without the grand old lady of Vijayawada at the entrance of the sisters'' quarters with her right hand raised to bless each and everyone irrespective of sex, age, caste and creed.Many still remembered how mothers with their little ones would surround her wheelchair begging her to lay her hand on their children's heads.Some compare her with Florence of Nightingale and some to Mother Teresa, for she was more than just a nurse.