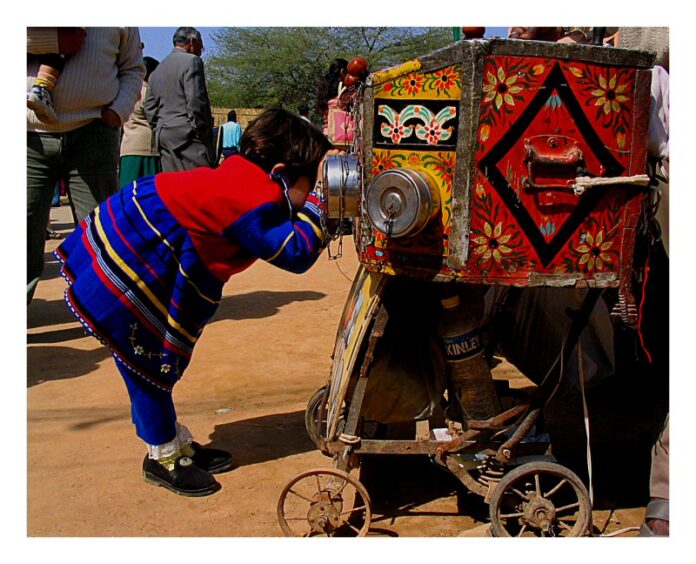 Vijayawada's Gandhinagar was considered the 'Mecca of film distribution', and it is now a shadow of its past, as just a handful of companies are involved in the business.Film distribution is now restricted to an elite few who decide the fate of Tollywood. Once abuzz, with more than 70 companies selling and buying films, Gandhinagar now wears a deserted look.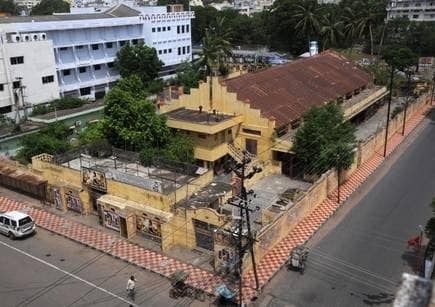 Barring the first-day-first-show frenzy, there is nothing much to talk about.Many still remember their stroll in Gandhinagar as kids collecting edited film clippings from the streets which they used to watch and enjoy in their tiny bioscopes.Bioscope was quite popular with children in the sixties before the arrival of TV. The hawker will move it on the trolley and would attract children to see the moving pictures. He would play 78 RPM records. He would crank roll of pictures which could be magnified through lens fitted on viewing window and gives running commentary as well. These days we can only in some fairs. Thanks to the invasion of technology and changes in rules in the trade involving producers, distributor and exhibitors and modernisation of theatres, the usual hustle-bustle in the once buzzing hub have fallen silent.
Gandhinagar turned into a film hub owing to its proximity to the several theatres close by. It was easy to carry reels from one theatre to another by auto rickshaws. That is one reason, a cluster of halls came up in Gandhinagar.The introduction of district-wise business has killed film distribution. The concept was meant to help producers meet the production cost in the mid-eighties. Now, everyone is a distributor," rues septuagenarian Agnihotram Narasimha Chary, a veteran in the field.With five decades of experience, Mr Chary, who works as the manager of Hansa Films, says the shifting of film trade to Hyderabad led to job losses. "Film distribution is now restricted an elite few who decide the fate of Tollywood," he says.Take a stroll along the lanes and by-lanes, and one finds more than a dozen cinema halls, screening old as well as new movies. Though some single-screen theatres downed shutters owing to losses, others are giving tough competition to even to multiplexes. A classic example is Sailaja Theatre, which is undergoing a makeover."The first three days [Friday, Saturday and Sunday] are crucial in the modern-day film business, as they decide the collections.
It has now become difficult to meet expenses. Several theatre owners, who are not able to run the show, are leasing out the halls," says a theatre manager on condition of anonymity.Grandhi Viswanath, managing director of Urvasi Cine Complex, presently Inox, says since multiplexes have the wherewithal to provide state-of-the-art facilities, managements of single-screen theatres focus on better amenities to attract viewers.Introduction of an online booking system, better air-conditioning, spacious parking and cafeteria are among the facilities provided by single-screen theatre managements. "Improved amenities are the only way to attract an audience," says R.V. Bhupal Prasad, proprietor of Navrang theatre.Mr Chary, meanwhile, is candid in his observation. "Earlier, watching movies in theatres was the only form of entertainment. Now, youngsters have several options. Owing to rampant piracy, even the latest flicks are available at a click of a button," he says.Gone are the days when film buffs used to flaunt their craze for heroes at new releases.
Interestingly, fans used to decorate theatres and take pains to get tickets for their friends. But, for the last few years, the euphoria has been missing at single-screen theatres. The reason: the influx of swanky multiplexes.Another reason for dwindling collections is the change in the format of releasing movies. "Earlier, four theatres used to screen a movie with two prints. After the introduction of digitisation, new films are released in as many theatres as possible, thus affecting collections," Mr Viswanath says."Despite the ups and downs, highs and lows, the show must go on," signs off Chary, with moist eyes.Real estate is a factor, too. Many fourth and fifth-generation owners of the cinema halls feel no sentimental affinity to the movie business.